Auditorium and Classroom Solutions
With the help of Fiducive Tech Digital Auditorium Solutions, transform your next business event into a spectacular success. You can rest comfortable knowing that every sight and sound in your special area will be clear, crisp, and simple to handle, whether you need to host a small event for your clients or partners or a large industry conference with cutting-edge presentations.
In order to make sure that every sight and sound in your special place is brilliant, intelligent, and simple to control, we connect your Auditoriums with huge venue presentation facilities, taking into account its application and audience. Our most modern digital audio, automated lighting, high definition flat screen displays, and projectors enable you to fill the theater with audience energy and excitement. We assist you in developing dynamic environments for delivering information, supporting events, training, and more for a sizable audience in auditoriums, giving your business the technological edge.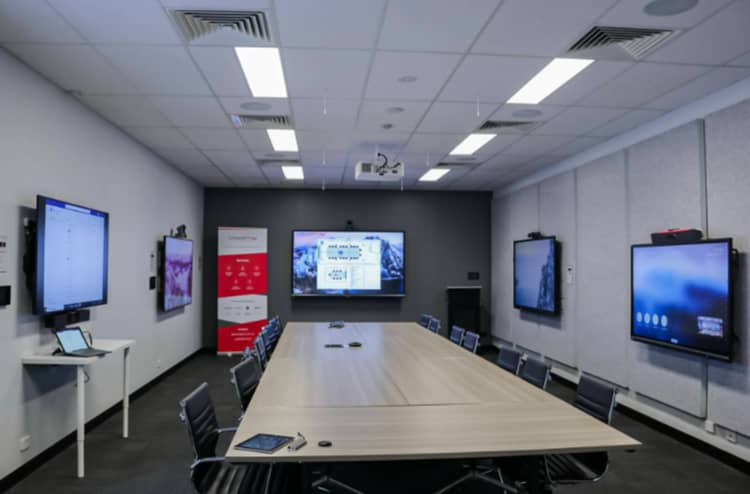 Our audio and video specialists are professionals at setting up sound and video systems for auditoriums, which includes putting in place the right lighting controls to turn your auditorium into a theater for multimedia presentations. You'll be able to blend sound, video, and light to create breathtaking shows that your audience won't soon forget.
Our sound systems for classrooms are dependable, crystal clear, and customized for your educational purpose. By enhancing speech understanding and intelligibility, these classroom audio solutions help children hear clearly and learn better while saving teachers' voices. With ceiling and wall installations, portable classroom sound systems, classroom Bluetooth speakers, training room sound systems, classroom microphone systems, and more, classroom sound system packages are available to suit the demands of every school.
With hearing comes learning. We were the first to develop a top-notch audio system for classrooms for this reason. This makes it easier for every student to hear the teacher's natural voice because it is distributed more evenly around the classroom.
Add Your Heading Text Here